Does my property have to look as if a UFO landed on my roof?
-Or can I be part of the Green solution, and still have an esthetical pleasing appearance of my property?

I have a house with an average consumption of both hot-water and electricity / Energy in general, I would like to "Go green" but I also like the architectonics of my property.
When I look at the solutions other people have chosen for heating up their water, I get deep wrincles in my forehead. -Same with the ever faster rising energy-prices!
Several questions rise to my mind;
How will I fit this mounstrum on my roof, with tanks and the entire metallic frames/stand (which already are red from corrosion on the neighbour-buillding?
How much damage will the tanks do to my house / roof in the case of a big storm/hurricane should hit the house and tip it over?
How will I be able to harvest Electricity form solar (Photo voltaic) if I already take up the space and makes shadows with the ugly thermal-solar system, tanks etc.?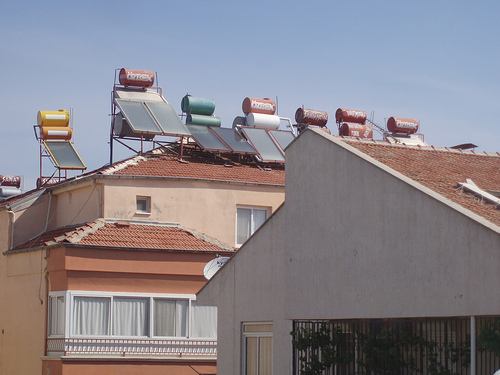 I must say I was VERY positive surprised when I saw the solutions presented by Danish Green Technology,
-They (Danish Green Technology) have a new HYBRID solution, giving me BOTH Electricity AND Hot water, and it looks like a MILLION, as the water-heater is built into the photovoltaic module, and the tank are located in the technique-room inside the house, with the rest of the installations in the house. Just take a look here..
The module looks just like a PV-solar-module, BUT it collects the heat as well, at the same time it cool down the electrical circuits, resulting in a higher yield, so I only have ONE installation providing it all, I get to use the available square-meters on my roof TWICE,
-and I keep the beautiful appearance of my house, as the system are build-in to the roof, it can basically substitut the conventional roof, saving you a lot, if you are building new or restoring the roof of an older building, as you can exclude the costs of conventional roof-tiles,
-and make side-to-side solar-power-roof, enabling you to cover your hotwater need as well as your electrical consumption! - Often even accumulating an income from selling the excess power production to the grid. Now this is a REAL WIN/WIN- Sustainable Solution.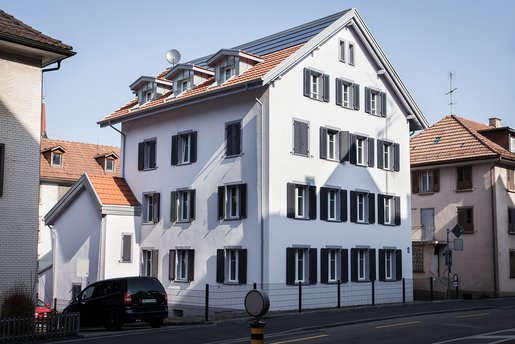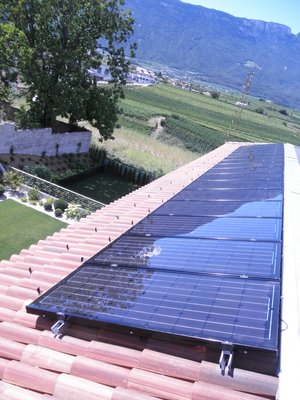 Today I am the happy owner of a beautiful energy-efficient solar-roof, I have my electricity AND my hotwater-need TOTALLY covered, and in the summer months, I even generate an income from selling my excess powerproduction to the grid, which is worth to mention.
Now I am secured for the rest of my life, and I feel I am a greater part of the global energy SOLUTION, more than part of the problem. I cannot recommend this investment enough, My house has risen in value, and my expenses are reduced to 0, so my break-even is within half the time I had expected (only 6 years) and all along with a positive cashflow (More money in my pocket every month)
http://danishgreentech.com/index.php/store/thermal/solator-pv-therm-hybridmodule-thermal-performance-detail